Louisiana Capitol History and Tour
House Chamber

Louisiana historical scenes are depicted on each one-ton bronze door leading to the lobby of the House Chamber. The marble in the lobby is from France. The floor is Roman Travertine and is bordered with Rouge Royal and Royal Jersey Green marble.
The unsupported staircase is of marble from Spain and leads to the spectator gallery.
The House Chamber walls are of Crazannes Anteor marble from France and the panels are of Siena Travertine lava from Italy. The hand-painted ceiling is of Celotex, which is made from bagasse. Bagasse is a product of the sugar cane refinement process. A molded plaster frieze, which borders the top of the chamber walls, depicts a Louisiana swamp plant and native animal motif. The four bronze chandeliers weigh one ton each and are anchored to beams above the ceiling. They are attached to pulleys so that each can be easily lowered or raised.
The 105 member desks are made of solid American Walnut and Australian Laurel. One hundred desks date back to 1932. The remaining five were added in the 1960s due to an increase in membership.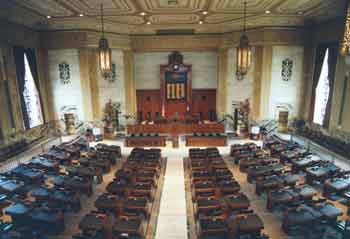 A recent renovation of the House chamber was completed in April, 1998. In addition to technological upgrades, the recent restoration effort returned the chamber to its original 1932 configuration. The center aisle was restored as well as the steps on either side, at the front of the chamber leading to the Speaker's dais. The ceiling tiles were restored and the original Art Deco design was repainted..
In 1998, the House chamber was refurbished to its original configuration.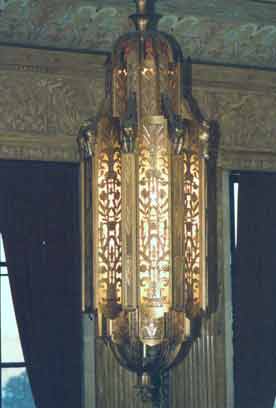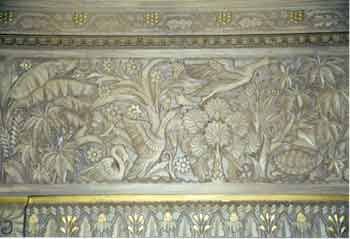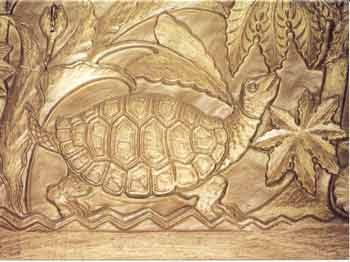 Sections of the freize around the top of the House Chamber.