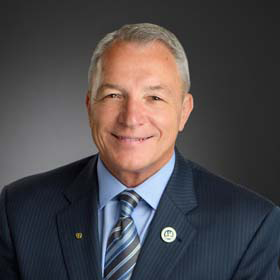 Chairman, Representative Mike "Pete" Huval
Mike "Pete" Huval was elected to the Louisiana House of Representatives, winning his seat on April 2, 2011, in a special election to fill the vacancy created by the election of Representative Fred Mills to the Louisiana State Senate. Huval serves House District 46 representing Parishes of Iberia, St. Landry and St. Martin. Huval was reelected, unopposed to serve his second full term 2016-2020.

A lifelong native of St. Martin Parish, Huval graduated from Breaux Bridge High School and further attended the University of Louisiana at Lafayette. Huval began serving the public in 1995 for the St. Martin Parish Government from District 4. Serving 4 years on the police jury and 15½ years on the St. Martin Parish Council, serving 11 years as chairman of the council. In that capacity, he was active in the Louisiana Police Jury Association, serving 6 years on the State Executive Board.

An active parishioner of St. Joseph Catholic Church in Parks, Huval is also a long time member of the Knights of Columbus being once the youngest Grand Knight at age 28. He is a former president of both the Breaux Bridge Chamber of Commerce and the local Kiwanis International. An insurance agent by trade since 1979, Huval launched his very own Mike Huval Insurance Agency, LLC in 2003 with two locations based in Breaux Bridge and Opelousas. Huval is a former board member of Hearts of Hope and current board member of the ARC of St. Martin, Inc.

In 2013, Representative Huval the primary author of HB 147 becoming Act 276, established the special prestige motor vehicle license plate "I'm Cajun". Huval's successful efforts aided to the annual royalty fees for each plate issued to the Council for the Development of French in Louisiana (CODOFIL) to solely fund scholarships for "La Foundation Louisiane for the Escadrille Louisiane" program.

During his first partial, first full and second terms as state representative, Huval served on the Agriculture, Forestry, Aquaculture & Rural Development, Civil Law and Insurance Committees. In his third term Huval was appointed to be the Vice Chairman of the Municipal, Parochial and Cultural Affair Committee, Insurance, Ways & Means, the Atchafalaya Basin Program Oversight Committee, House Executive Committee and Joint Legislative Committee on Capital Outlay Committee.

Huval, now in his final term, was appointed to be the Chairman of the Municipal, Parochial and Cultural Affair Committee and the House Select Leadership Committee. He continues to serve on the Insurance Committee, House Executive Committee and Atchafalaya Basin Program Oversight Committee. Huval has remained Chairman of the Acadiana Delegation since 2017 and a member of the Louisiana Republican Legislative Delegation and the Louisiana Rural Caucus since 2011. Huval's hobbies include his love for watching ULL's Ragin' Cajun baseball and football, demonstrating cooking his multiple 1st Place Winner recipe of crawfish etouffee, speaking Creole French and taking relaxing Sunday drives in his very own Muscle Car, a black 1969 Chevy Camaro.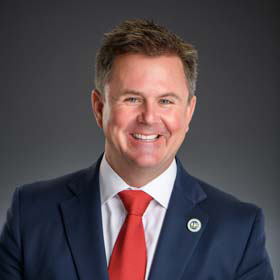 Representative Beau Beaullieu

A native of Iberia Parish, Beau Beaullieu is a conservative small businessman who, for the last 19 years, has owned/operated a financial service firm that works with businesses throughout Louisiana and Texas to service their company's 401k Retirement Plans. Beau and his firm, CoSource Financial Group, have been nationally recognized on multiple times for their leadership in the retirement plan industry.

Beau graduated from Louisiana State University with a degree in finance and continued his studies at The University of Louisiana at Lafayette where he received his Masters in Business Administration (MBA). In addition to being an Accredited Investment Fiduciary, Beau was among the top 75 advisors in the country who were invited to participate in inaugural class of The Retirement Advisor University at UCLA's Anderson School of Management, where he became one of the first Certified 401(k) Professionals in the State of Louisiana. In 2019, as newcomer to the political world, Beau was elected to 48th District of the Louisiana House of Representatives which covers parts of Iberia, Lafayette and St Martin Parishes. Beau serves as the Vice Chair of the Retirement Committee and as a member of both Ways and Means and Insurance Committees.

Beau has been married to his wife Kaci for 21 years and they have 2 daughters and 2 sons that span the ages of 14 to 20 years old. Beau has been accused of being a chronic community volunteer and works tirelessly to improve the lives of those around him. Beau is a 4 time World Gumbo Champion!


State Representative: January 2011 - present

House District: 44

Education: Bachelors of Science - Marketing, Southern University, Baton Rouge Campus High School - Holy Rosary Institute

Representative Vincent Pierre was born in Lafayette, Louisiana to Merlene Pierre and the late Willis Pierre. He has twin boys Joshua and Kyle, 20 years old and Luke, 12 years old. Representative Pierre is a graduate of Holy Rosary Institute, a long-standing entity in the community and Southern University-Baton Rouge Campus.

Representative Pierre currently a member of Louisiana Legislative Black Caucus, the Exploratory Committee for an International Language Immersion School at ULL, the House Select Leadership Committee, the Committee on Hurricane Recovery and the Legislative Bureau. He has served as the Chairman with the Acadiana Delegation, 2013 Parade Marshall with the Lafayette Mardi Gras Association,

He is also a current member of Alpha Phi Alpha Fraternity and was voted Alpha Man of the Year 1995-1996. During his tenure as State Representative for District 44. Representaive. Pierre is committed to working toward economic improvement and prosperity of the community and Lafayette as a whole. During the 2014 session, the creation of the North Lafayette Redevelopment Board was appointed, which will address blighted properties and the overall upkeep within District 44. Other areas Representative Pierre is committed to working on, is the accessibility to the office for the constituents of District 44, advancements in the upper and lower levels of the education systems in the State of Louisiana, expansion of tourism and the establishment of positive relationships within Lafayette and the surrounding metro areas.

Representative Vincent Pierre is currently employed with South Louisiana Community College as a Business Development Officer. He is passionate about growing our workforce by assisting businesses to offer relevant training to employees as well as helping people to acquire the skills and training necessary to enter the workforce.