Louisiana Capitol History & Tour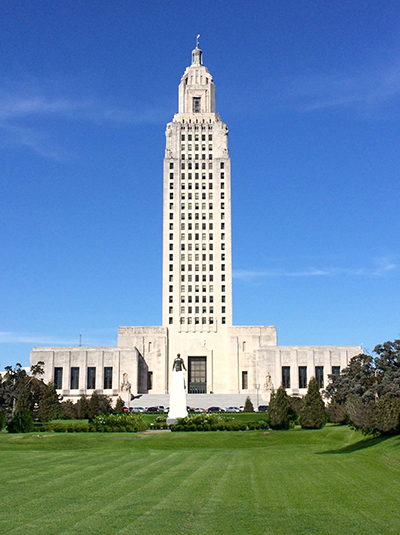 HISTORY

Welcome to the Louisiana State Capitol, one of the most interesting and the most visited state capitols in the United States. The State Capitol is one of the foremost examples of the art deco design which was popular in the 1930s. The building stands 450 feet tall (34 floors,) making it the tallest capitol in the United States. It is one of only four skyscraper capitols in the country and one of only nine capitol buildings that does not have a dome. The building contains 249,000 square feet and sits on 27 acres of beautifully landscaped grounds.

The "new" Louisiana State Capitol building in Baton Rouge was the brainchild of Gov. and U.S. Sen. Huey P. Long. The old state capitol was moving quickly toward obsolescence and a new building was in order. Long first approached the State Board of Liquidation in January 1930 to obtain $5,000 to employ the architectural firm of Weiss, Dreyfous, and Seiferth to draw up plans for the building. Long had expressed interest in building a tower, so the architects used the Nebraska state capitol, under construction at the time, as a model.

The building has been the site of many of Louisiana's historical moments, and many historical figures have graced its halls. Also, one of the most tragic events in Louisiana history occurred here. On September 8, 1935, U.S. Sen. Huey P. Long was shot in the hall beside what is now the Speaker's Office. He died two days later as a result of his wounds.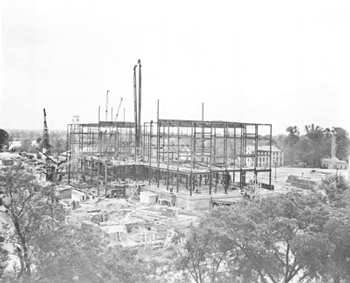 In 1930, the Legislature was slow to appropriate the money necessary for the building. A measure to fund the new state capitol failed in the 1930 Regular Session, but the necessary constitutional amendment was passed in a special session later that year. The citizens of Louisiana approved the amendment by a ratio of 14 to 1. Construction began on December 16, 1930.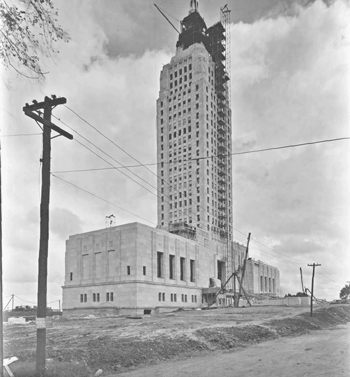 The Yazoo and Mississippi Valley Railroad company build a rail spur which stopped at the point of construction. Approximately 2,500 carloads of materials were brought via this rail spur for use on the capitol. The total number of rail carloads consisted of 500 loads of tile, 285 of sand, 240 of gravel, 200 of limestone, 190 of cement, 108 of bricks, 50 of marble, 30 of bronze, 26 of granite, 24 of ornamental iron, and 20 of terrazzo.

On May 16, 1932, a mere 14 months after construction began, the new building was dedicated to the citizens of Louisiana. Ironically, Huey P. Long was unable to attend because of pressing senatorial duties in Washington D.C.